Carly and Brent's wedding was definitely a lot of fun, with lots of games and crazy dancing – even the portrait session included hacky sack and bubble blowing. They had their ceremony at Sleeping Dog Farm, which is a beautiful and peaceful spot. Even before Carly started her aisle walk with her parents, I noticed Brent seemed overwhelmed with emotion – sweetest thing ever. The officiant, Sherry Easthom, told them to hug mid-ceremony. So adorable.
We headed to Mt. Doug and a nearby beach for portraits. These guys had a ton of energy, climbing up a mountain in long dresses and with some of the bridesmaids in wedges. They ran around on the beach for a while, coming up with tons of posing ideas of their own. Then we stopped at Tim Horton's where an iced cappuccino woke me up for the reception.
The reception was at the University Club at UVic, which is a lovely room, but with some challenging mixed lighting. I love the wooded area with a pond out by the patio, where people would retreat when they got tired of dancing, only to return to the dance floor again with more energy. I tried out a different flash technique at this reception, which I think perfectly suited their energetic dancing.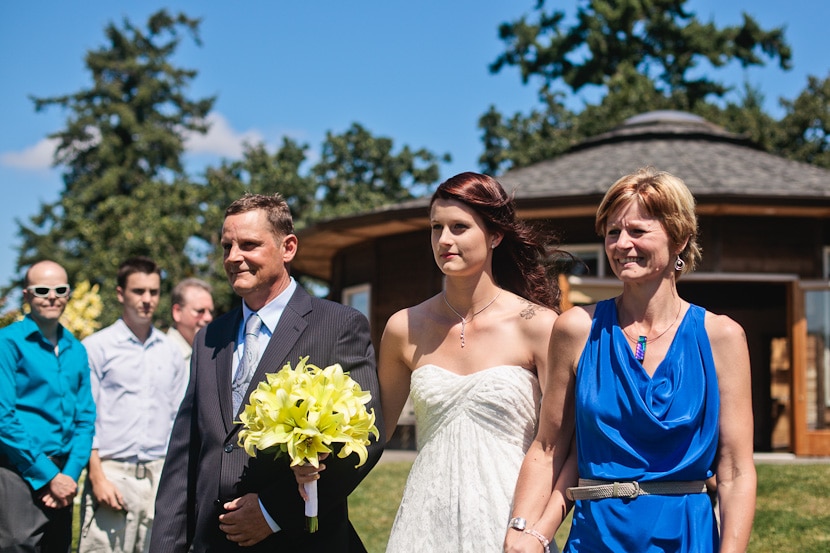 Venues: Sleeping Dog Farm and University Club
Caterer: UVIC
Florist: Poppies Floral Art
Hair and make-up: AtmospHAIRe and Aveda
Cake: Oh La La Cupcakes
Officiant: Sherry Easthom
Suits: Tip Top
Bridesmaid Dresses: Shades of White
Bridal Gown: Champagne and Lace
Wedding Favours: custom Jones Soda bottles